after I got home from work I went out to milk goats, found one of the lil bucks out flat pretty much dead. I have never milked so fast in my life. I got him back to the house and warmed up some towels in the dryer wrapped him up, and started praying, Called mom to let her know and she told me to give him a shot of some stuff that we give to the new Born's, Also I tried giving him some milk with black coffee to it, it is suppose to perk him up, he was not doing to good with the bottle, he wasn't sucking at all. I rigged up a feeding tube from a syringe and some fish tank air hose tubing, you thread the hose down his throat and into his tummy, and feed him that way. it worked like a charm so pretty much 8 hours straight he was on my lap and I was tubing him every hour.
I want to thank Deb, Tree, Dustin, and belair for being in chat with me it helped tremendously to have peeps to talk to.
I have no idea why he did not die but he is doing very good today and is standing though he is very wobbly
here are a couple pics of him from last night when he was bad off and could not hold his head up. I will get some pics of him later when I feed him again.
yes he is wearing a diaper grin I didn't want a wet lap lol and the black bits on his head is from when I disbudded him earlier in the week.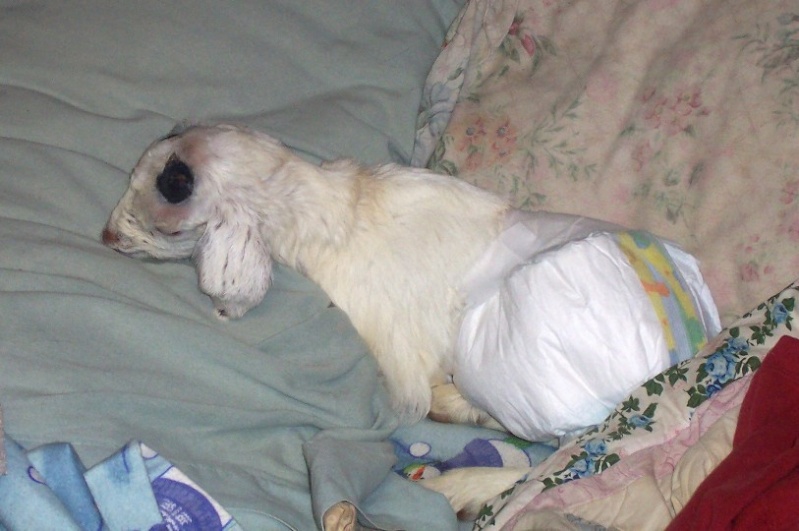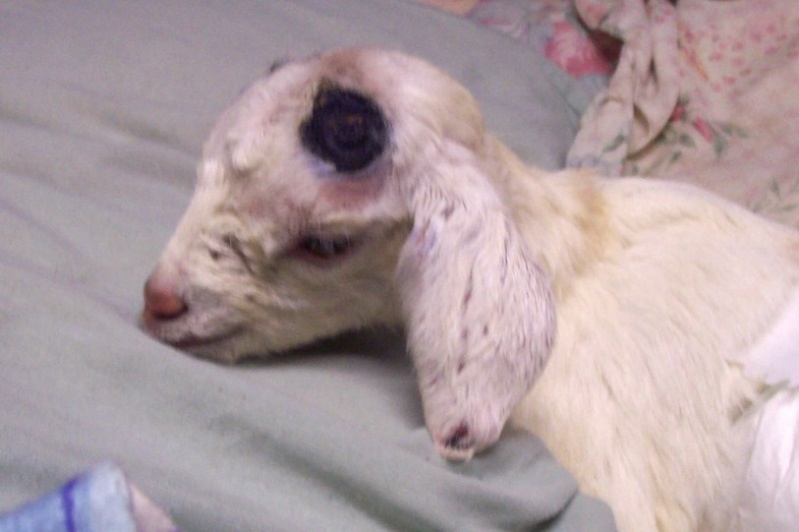 _________________
Hand over the fuzzy's
and no one gets hurt
Well, I dont think I was of much ass-istance, but I do what I can. I am so glad that he pulled through!!! Good job Anna!
_________________
Do not remove a fly from your friend's forehead with a hatchet.
Chinese Proverb

http://bierygame.webs.com/index.htm
_________________
Hand over the fuzzy's
and no one gets hurt
just haveing you there to talk to helped a lot and I am thankful for that Dustin
_________________
Hand over the fuzzy's
and no one gets hurt
Wow, Anna, what a night you had!! But you did so good! Look at the little one now

Gosh, I missed all this when a blizzard took our power again....

caysa




Posts

: 56


Join date

: 2008-01-26


Location

: Finland



Anna, he is looking SO good! Well done ma'dear! What a little cutie he is. So, do you think maybe the debudding had something to do with it????

_________________
"Nothing is so strong as gentleness, and nothing so gentle as real strength." - Ralph W. Sockman
He's so lucky Anna. I'm so glad he made it through. how is he doing today?

ferdismom




Posts

: 134


Join date

: 2008-01-18


Age

: 38


Location

: Linden, Tn



great lol you can not even tell he was so close to dieing I am amaized to say the least
_________________
Hand over the fuzzy's
and no one gets hurt

---
Permissions in this forum:
You
cannot
reply to topics in this forum